March 16, 2021
, Posted By
John M
An Internet Background Check Removal May Be Critical to Success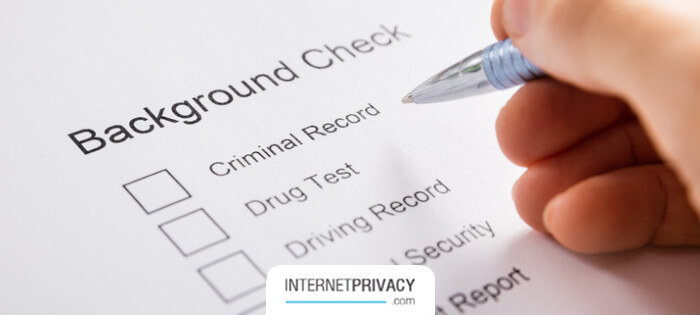 In today's world, many people will form an opinion about you based largely upon what they read about you on the Internet. A less than perfect background check published on the Internet can seriously color their opinion; in these cases, your reputation would benefit from a background check removal.
How Background Check Sites Affect You
Many human resources professionals believe that the Internet and social media sites can help them discover the "real" job applicant and may give these sites more weight in the decision process than personal interviews. About half of human resource professionals say they consult the Internet and social media when deciding which applicant to hire. More than one-third of employers have rejected a job candidate because of information found in these online checks. Many of the employers who don't currently use the Internet and social media as screening tools have indicated that they will soon begin to do so.
Landlords also search the Internet for information about prospective tenants. Some colleges check out potential students online when deciding who to admit. Some banks do so as well when considering whether to grant a loan application. In fact, anyone who has access to a credit card and is willing to pay a small fee can access the information found on many background check sites. This includes your friends, neighbors, colleagues, and family members.
Your past can pop up when you least expect it
Even a small mistake made many years ago can affect your ability to find a good job, a place to live, borrow money, and make friends when the mistake appears on these sites. To make matters worse, your name and arrest record may appear on these sites even if the arrest was later found to be a mistake, or you were found innocent of the charges. Inaccurate information also can appear.
A background check removal campaign, then, can open up many possibilities that previously have been closed. Having this information removed can give your life back to you, allowing you to find the job and home of your dreams.
Even if you have no dings in your background, having your personal information on a background check Website may still negatively affect you. Any individual with a credit card can discover your children's names and your address, subjecting your family to potential stalking or abuse. These background checks also contain private information about you that could be used to decipher passwords you use on banking Websites or to access your personal or business email. Hackers who obtain this information can impersonate you, wreaking havoc with your finances and personal and professional life.
A background check removal campaign for you would allow you to retain your privacy, safety, and identity.
How Many of These Sites Are There?
More than 180 background sites exist, with more being created as time goes on. These sites sell your information to anyone with a credit card. You might want to consider opting out of these sites. For starters, you can look at how to opt out of Spokeo, one of the most popular databases for personal information. 
Some of the other most popular sites include:
Where Do These Sites Obtain Information?
These background search Websites obtain information from several sources, including public records and social networks. A few examples are:
Social networks
Online surveys
Professional and business licenses
Political campaign contributions
Court reports
Government spending reports
Voter registrations bureaus
Driver's license bureaus
County Records (e.g.. birth certificates, death certificates, unsealed lawsuits, marriage licenses, and divorce decrees)
Census statistics
Consumer Loyalty cards
What Is the 
Background Check Removal

 Process?

Each background check Website has its own policies about removing information. The first step, then, is to search these sites for your name (including variances, such as your maiden name). Then, you research the site's policies. Some will allow you to opt-out of having your name listed by filling out an online form. Others may require documentation that the criminal charges or judgments they've reported are inaccurate or that you were found not guilty of charges. Some may require that your criminal record have been expunged.
What is Expungement?
Expungement means that your criminal records has been changed, sealed, or destroyed. The process and criteria for having records expunged varies by state, as do the benefits. In most cases, when a record is expunged, the public can no longer view it. An expungement also typically means that the applicant does not have to disclose the information when employers or landlords ask for it. Some states charge a fee to expunge the record.
To determine whether expungement is viable for you, you'll need to examine the state's criteria, such as the type of offense and length of time since it occurred.
Can I Complete the 
Background Check Removal

 Process Myself?

While completing the process yourself is possible, it is complicated and time-consuming for many reasons:
Individual removals are tedious and take time
You must remove the information from each site individually, which is a slow process.
The law isn't always on your side
In most states, the practice of compiling this information and selling it is technically legal, so the laws do not require that the sites remove your information.
Removal processes vary by site
Each site has its own rules about removing data. If you aren't familiar with them, you'll need to first research the rules and then do whatever is necessary to comply with the rules. Some sites make removing your information extremely difficult and require extensive documentation.
Records expungement may be required
Other websites will require that your record be expunged before they will remove your information. The rules about who is eligible for expungement vary in each state; you'll need to research these rules and accurately petition the court for expungement. In some states, this petitioning process is easy; in others, the process is cumbersome.
Many sites drag their feet
Even if you meet the criteria to have your information removed from a Website, they may not willingly remove it. For example, Websites that require that your criminal record be expunged won't automatically remove the information once the court has granted your petition. You'll have to notify the sites about the expungement, then follow up to be sure they've removed the information.
Ongoing monitoring is, well, ongoing
Once you've completed the background check removal process, you'll need to continue to monitor the sites to be sure your information doesn't return. Sometimes, applying for a new credit card can cause your information to pop up again.
Complete removal isn't always possible
You may not necessarily be able to have your information removed from all sites, depending upon the type of information involved. In that case, you may need to find a way to delete that information from search engines or bury it and to proactively improve your Internet reputation. Online reputation management is a specialty.
How Long Does The Process Take?
The length of the process depends, as well. If you are doing the removals yourself, you'll have to take each site one at a time, researching the removal procedures for each one. Then, once you file the appropriate paperwork, some sites will take up to six weeks to remove your information.
If you need to have a record expunged, this will require additional time. Some states will only expunge a record after a certain amount of time has passed since the offense. Even if the time has passed, you will need to wait until the court acts on your petition before sending proof of the expungement to the website.
A Professional Approach
Having a company that specializes in online privacy and background check removal can speed up the process and improve your results. Because these companies have removed the names of others from these same sites, they are already familiar with the requirements for each site. They are well-known with these sites, and their requests will be answered quickly. They also can advise you on how to maintain your Internet privacy.
If a site refuses to remove certain information, a professional firm can help you ensure the negative information doesn't appear in search engines or appears so low in the rankings that no one sees it. They can also help you create a positive reputation campaign so that potential employers, landlords, and college admission officials read all the good things about you when they search the Internet.
Professional firms also are well-equipped to monitor over the long term to ensure your background information doesn't return to the sites where it was removed or appear on other sites. A professional firm can do the removal work so that you can go on with your life.
Want to Reclaim Your Life?
We take care of the background removal process from sites like Whitepages, Spokeo, LexisNexis, etc., efficiently. In addition, we monitor the web for your personal background information to ensure it doesn't hurt you again. We also help promote your strengths on the Internet so that these are the first things employers and lenders see.
InternetPrivacy.com protects you and your family from dozens of sites that sell your background information to others. We use advanced tools to find every mention of your name on the Internet and to remove those that violate your privacy or present you in a negative light. We also periodically check to make sure that negative or personal information doesn't reappear.
InternetPrivacy.com is the sister company of NetReputation.com, an Inc Fortune 500 company that was rated the No. 1 Global Reputation Management firm last year by Newsweek. Our Online Reputation Specialists have more than 10 years of experience in safeguarding your online privacy and uses time-honored methods to ensure sensitive information is not available to the public. We are discreet and confidential.
Contact us today at 866-349-0130 for a free, no-obligation consultation. We have background check removal plans for various budgets. Let us help you reclaim your life.